To Add Your Required Components &
Get a Price Quote Emailed to you in a PDF Document
Click on Customize Button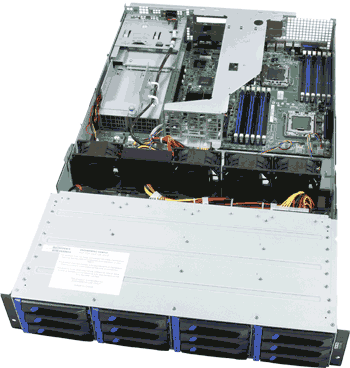 Buy with confidence!
Ready to deploy starting from $3,295
Servaris ProServ M2100 is a High-Performance Computer Data Storage Server. Servaris ProServ M2100 is the Perfect candidate as a High Performance VPS Server. Also an excellent 2U RAID Storage Computer Server. The ProServ M2100 supports one or two Intel 5600 Six-Core and Quad-Core Processors.
Servaris M2100 features give it an outstanding Reliability factor including two 760-Watt High Efficiency Auto Sensing 110-240 Volt Power Supplies for Power Redundancy.

12 x 3.5-inch Hard Drive Bays SAS or SATA for your Data Storage and, 2 x 2.5-inch fixed Hard Drive Bays (SSD, SATA or SAS) for Boot Drives with an integrated RAID Controller and will provide you with a RAID-1 (Mirror).
The Advanced Remote (Lights-Out) Management System is accessed by any modern Java Enabled Web Browser to its own dedicated 10/100 Network Controller and provides you with Redirected Console with KVM, change system settings, shutdown/Power on.

Servaris ProServ M2100, provides a solid foundation for Virtualization such as a VPS - Virtual Private Server, High-Performance Computing Server and Storage Server in a 2U Rack mount form factor, with advanced features and provides you with a high return on investment.
Not sure if this server is right for you? Please feel free to call us toll-free. We're here to answer your questions.
Key Features

Server Chassis: ProServ M2100 Premium Advanced 2U Rack-Optimized Computer Server Chassis with support for up to 12 Hot-Pluggable SATA and SAS Hard Drives and 2 Fixed Boot Hard Drives, High-Performance Specialized SAF-TE Back plane

Chassis Dimensions:
Height 3.45in, Width 16.93in, Depth 26.46in
Height 87.30mm Width 430mm Depth 838.2mm

Server Board Chipset: Intel® 5520 chipset. Supports both 32-bit and 64-bit Open Source Operating Systems such as FreeBSD and Linux CentOS, Fedora and Red Hat EL, SuSE and Microsoft Windows 2008 Server.

Processor Support: One or Two 64-bit Intel Six-Core or Quad-Core Xeon 5600 Sequence Processors 1333Mhz Front Side Bus, 12MB Cache

Memory: 12 Dimm Slots provide up to 192GB DDR3 Registered E.C.C. (96GB/Processor) CMT Labs Certified Memory, Memory RAID, Configurable Hot-Pluggable Memory, Memory sparing and mirroring in BIOS.

Internal Storage: 2 fixed Boot Drives (SAS or SATA) and 12 Hot-Pluggable Hard Drive Bays with support for both SAS and SATA Hard Drives.

PCI Expansion:
•1 riser card with 3 full-height PCI Express 2.0 x8 slots or,
•1 active butterfly riser card with 5 PCI Express* 2.0 x8 slots (three full-height and two low-profile)
• 2 optional Expansion Modules (PCI Express 2.0 x8)

Network: 2 x Intel Pro/1000 82575EB Server Ethernet Controllers.

Front Panel: 3 USB-2 Ports, 1 Video Port

Rear Panel: 2 USB-2 Ports, 1 Video Port, 1 Serial Port , One 10/100Mb RJ-45 Server Management port, 1 SAS Expansion Port

Cooling System: 4 x 80mm non-redundant cooling fans

Headless Lights Out: Bios and OS Console Redirection support, PXE boot option, IPMI compliant Server Chassis and Server Board and Server Management Software included.

Power: Hot-Pluggable Redundant 760-Watt 1+1 High Efficiency Power Supplies

Remote Server Management: Included Advanced Remote Management with dedicated 10/100 NIC provides Redirected Console, KVM and http access for full headless Server Management. OS Independant.

Graphics: Server Engine LLC Pilot II controller with 64 MB DDR2 memory, 8MB allocated to graphics

Warranty: 3 Year Warranty - Flexible On-Site Hardware Maintenance options available.